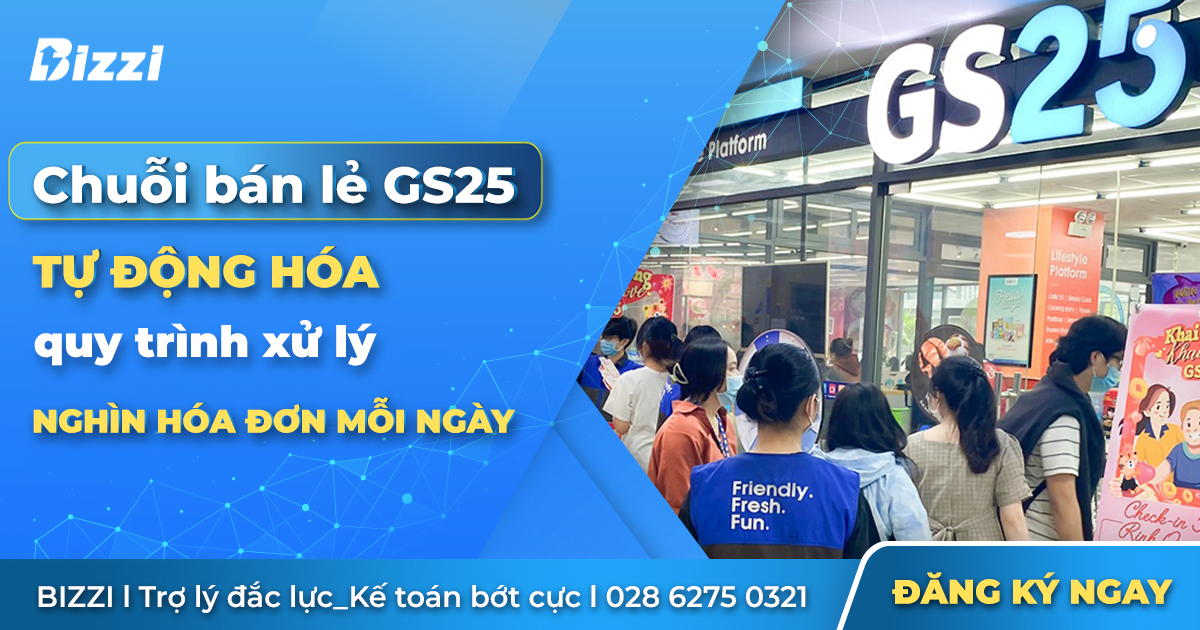 Invoice processing problem of GS25 – a typical representative of the convenience store system of kimchi country in Vietnam 
GS25 officially "landed" in Vietnam from the beginning of January 2018. From 2018, until now GS25 has more than 130 stores, With a number of stores spread throughout the districts, GS25 can fully meet the needs of all necessary necessities for customers.
It can be said that GS25 is one of the Convenience store chain leading in Vietnam with a high growth rate in terms of number of stores and number of suppliers. With a large number of customers, branches spread throughout the GS25 welcome thousands of bills every day is completely normal.
The pressure of growth, expansion of the number of stores and retail staff has created a pressure operational management GS25 business processes. The big challenge for the accounting department (especially accounts payable and tax) in timely and accurate processing of the increasing number of input invoices (more than 20,000 - 23,000 invoices/month).
Solution from digital transformation technology: Bizzi invoice processing software for convenience stores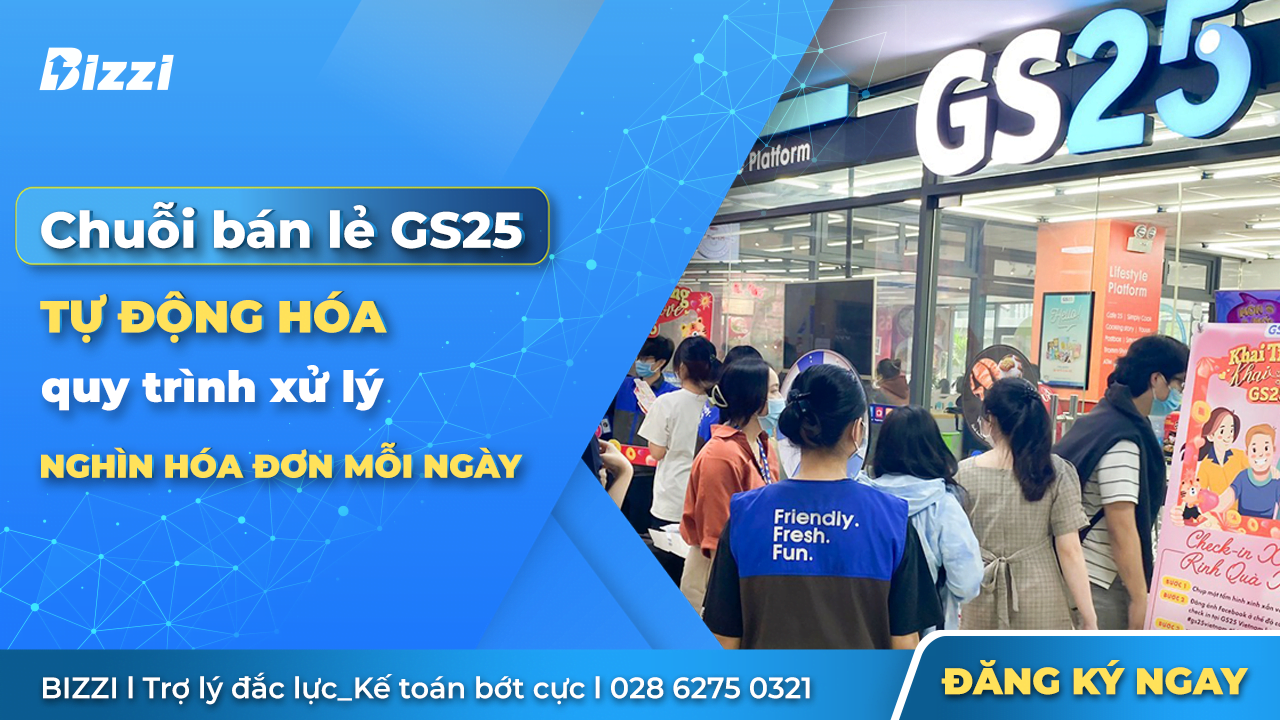 COVID-19 has had many major impacts on the supply chain of the whole economy. Since the pandemic, Vietnam's retail industry in general and retail businesses like GS25 have been under unprecedented pressure as businesses face more and more obstacles in the process of operating and maintaining business operations. .
In that context, digital conversion emerging as a topic that receives a lot of attention and is considered a worldwide trend in line with the market context as well as opening up new opportunities for many businesses when applying automation technology (RPA) in retail operations.
Recognizing this task, GS25 leadership has focused on applying digital transformation technology in a timely manner process of processing, storing, checking and comparing invoices.
It can be said that Bizzi is the savior for the Accounting - Finance department of GS25. Using Bizzi from the first days, the accountant to manage the payables of the GS25 retail chain, Ms. Nguyen Thi Phuong Thao said – Bizzi helps GS25's accounting department reduce time in booking invoices, checking information and invoices on the system. Fast processing speed of only 10s/invoice, e-invoices only need to be sent to email address Bizzi can process in a few seconds, showing full information and checking the accuracy of information such as codes Taxes, digital certificates are extremely important criteria of e-invoices. In addition, Bizzi helps to fix incorrect input errors when doing it manually, this is the feature that Thao loves the most when using Bizzi.
Thao hopes that in the future, the invoice processing software for Bizzi convenience stores can support the accountant to check how much the due debt needs to be paid and not miss any information from the supplier. grant.
As a startup, Bizzi understands the difficulties of businesses and from there research, build and develop automatic invoice processing software to meet the needs of many businesses in the retail industry. logistics, construction,…
Automated processing of input invoices using Bizzi's Cloud RPA technology to automatically load, check, and reconcile invoices 

Instant invoice status updates for key suppliers 

Manage invoices by payment due date 

Automatic reconciliation of 3-way invoices (invoices, purchase orders, delivery notes)
See more: BIZZI – 3-note automatic invoice processing software
Bizzi with the wind of RPA and AI technology brings positive transformation to businesses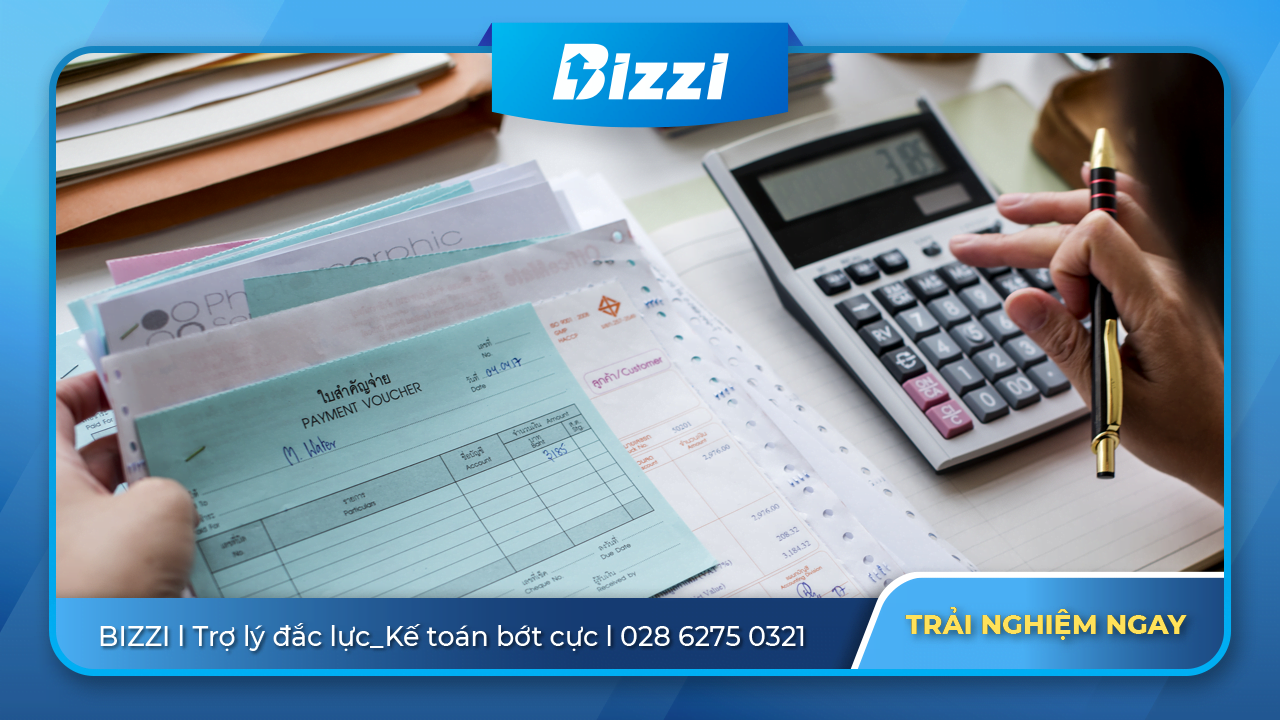 After only 2 months of testing the invoice processing software for convenience stores – since April 2020, the work performance of the GS25 store chain accounting department has shown great positive signs: 
100% input invoices have been checked for validity, authenticated with the tax database

Invoice/accounting processing productivity is increased 3 times compared to manual method

Average invoice processing time is only 10 seconds on invoice 

Average invoice processing cost: reduced 80% from 6,000 VND to 2,000 VND
Specifically, Bizzi focuses on helping accountants automate the following financial processes: 
Automatically retrieve/download email e-invoices

Automatically check the invoice information

Automatically compare with tax invoice lookup system

Automatically extract data to import into popular accounting software FAST, MISA, VACOM

Compliance and bookkeeping using RPA (robot process automation) technology 
For large companies with a fast-growing level like GS25, the accountant's work will have a lot of pressure and complexity in manual manipulation, which can easily lead to errors. Bizzi is a comprehensive and user-friendly convenience store invoice processing software to meet your day-to-day bill automation needs.
With the results achieved by the GS25 automated retail chain after applying argument transfer technology to the process, it has helped GS25 to automate 90% the invoice management process, which is of great significance in reducing the pressure on customers. accounting department, saving 80% time raising accuracy up to 99.9%. 
Bizzi is proud to be a company that provides technology solutions for Automate accounting and finance operations with a mission to become A powerful assistant in handling bills for convenience stores as well as support for businesses in the digital transformation process.
Registration free trial right  FORM SIGN UP
Follow other posts on Fanpage Bizzi